This post may include paid or affiliate links.
This shop has been compensated by Collective Bias, Inc. and its advertiser, MARS Incorporated. All opinions are mine alone. #BOOItForward #CollectiveBias
BOO it Forward this Halloween with a fun BOO Kit! The DIY goblins have been busy at our house making terracotta pot jack o' lanterns filled with sweet treats to BOO our neighbors. These jack o' lantern BOO Kits made using clay pots is a fun way to surprise the muggles who least expect it! Learn how to make clay pot jack o' lanterns below. Let's do Some Friendly Neighborhood BOO'ing!
As you may recall, we made a BOO Kit last year too, and BOO'd our Animal Shelter. We BOO'd them with some deliciously spooky gifts for the animals and the humans! This year we're BOO'ing our neighbors with fun Halloween clay pot jack o' lanterns filled with goodies!
Can't decide on which candy to include in your BOO Kit? These are my favorite picks!
MARS® Spider-Man Chocolate/Sugar Variety Bag with 400 pieces of candy
MARS® Halloween 'Spider' Jumbo Bag Fun Size Variety with 400 pieces of candy
MARS® Halloween 'Mummy' Chocolate/Sugar Fun Size Mixed Bag with 260 pieces of candy
These bags are only available at Walmart, look for them in the Halloween aisle.
Last week at Walmart I spotted a MARS® Halloween 'Mummy' Chocolate/Sugar Fun Size Mixed Bag of candy, and you know how much we love SNICKERS®, Starburst®, TWIX® and other MARS® Candies! So naturally we grabbed a bag to fill our BOO Kits.
Get the Spider-Man Homecoming DVD & Blu-Ray on October 17th at Walmart. Want to find the MARS® Variety bag we used for our BOO Kit? Hover over the photo below to click through to Walmart.com and buy it!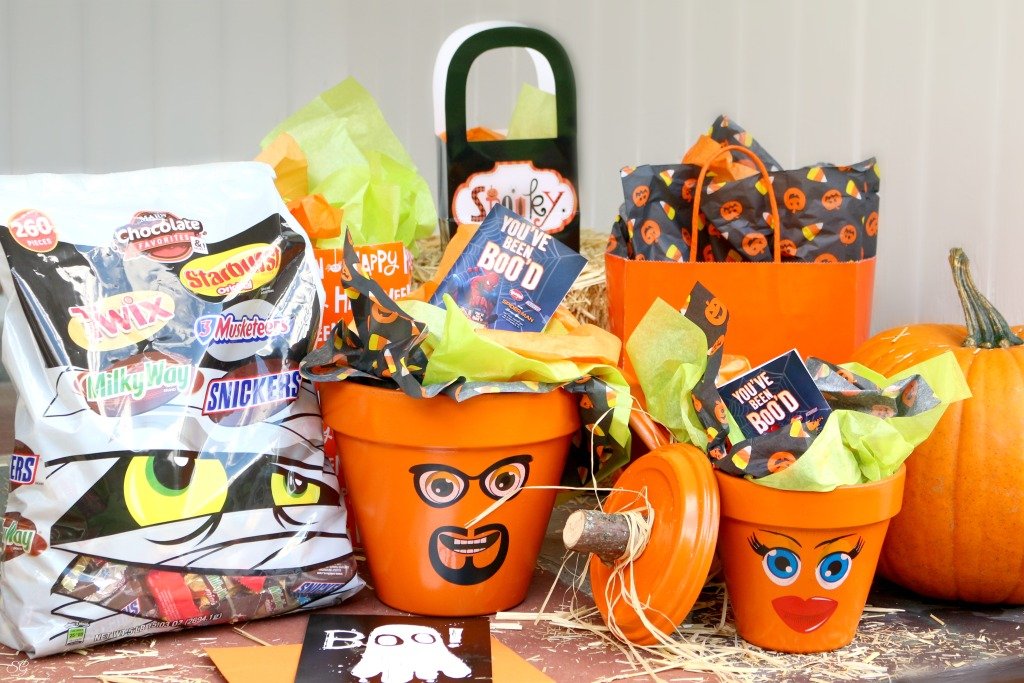 Clay Pot Jack O' Lantern BOO Kit
This terracotta clay pot jack o' lantern is pretty easy to make. Grab a bunch of pots and make them for all of your neighbors, friends, family and coworkers! If you're not careful, one might turn out to look like like you….
Materials
4″ or 6″Clay pots & saucers
Orange paint
Various paints or jack o' lantern face stickers
2″ piece of wood (a tree branch works nice)
Strong all purpose glue
Raffia ribbon and other decoration if desired
American Greetings Halloween card, tissue paper and other goodies
BOO it Forward card ← click to print!
Don't forget to print your BOO it Forward card!
Instructions
Paint the outside of the terracotta pots and the BOTTOM of the saucers orange. Apply a few coats of paint, as needed. Allow the paint to dry.
Use a strong all purpose glue to attach the piece of tree branch to the bottom side of the saucer (the side we painted orange). Glue it right in the center!
On the side of the clay pots, use jack o lantern stickers to make funny faces. You can also be more creative and use paints of various colors to create the jack o' lantern faces!
Now you can add the raffia ribbon or other decorations to your jack o' lanterns to make them special and unique. Somehow this one turned out looking a little too creepily like me…
It's like looking in a mirror…. Stop staring at me with that stupid grin! lol
I suppose the lady one is supposed to be called a "Jill O' Lantern" but this is totally my wife, so it's a Katie O' Lantern… Cute, right? 🙂
Fill 'er up with delicious candies!
Now that your Jack O' Lantern BOO Kits are filled with American Greetings tissue paper and MARS® Candies, you're ready to BOO your neighbors. Remember to print the BOO it Forward cards to remind the person you're BOO'ing to BOO it Forward, too!
Who will you BOO?
Subscribe For Free!
Be In The Know
Subscribe for future blog updates!