This post is intended for an audience of adults age 18 and older. This shop has been compensated by Collective Bias, Inc. and its advertiser. All opinions are mine alone. #CueTheNewYear #CueVapor #SatisfactionAtLast #CollectiveBias
Today we're headed into the man cave to put a cool printable design on a nice storage box. Sure, I could build a box from scratch, but today I'm going to skip right to the juicy stuff. Today I'm going to show you how to transfer an awesome design straight out of your inkjet printer and onto the wood!
We're talking new years and organization and what better way to keep things tidy around the house than with a nice storage box for your daily necessities? You can store your watch, sunglasses, wallet, or like in this case, the Cue™ Vapor System and Cartridges. Basically anything you'd want to have handy while chillin' in your man cave.
My New Year's goals include not just being more organized, but relaxing more as well. I work morning, noon and night and I'm going to focus on taking more time to simply relax this year, aren't you? You can crush your goals and relax a little more this year with the easy to use Cue Vapor System. Choose your flavor cartridges, like the Vanilla Cream, Creamy Mint, Fresh Melon — see all the flavors here, click and go. You can also sign up for their subscription program and save 15% on cartridges!
It's as simple as that! There's no better time to switch, and no easier way to do it. Click on the tag in the image below to shop!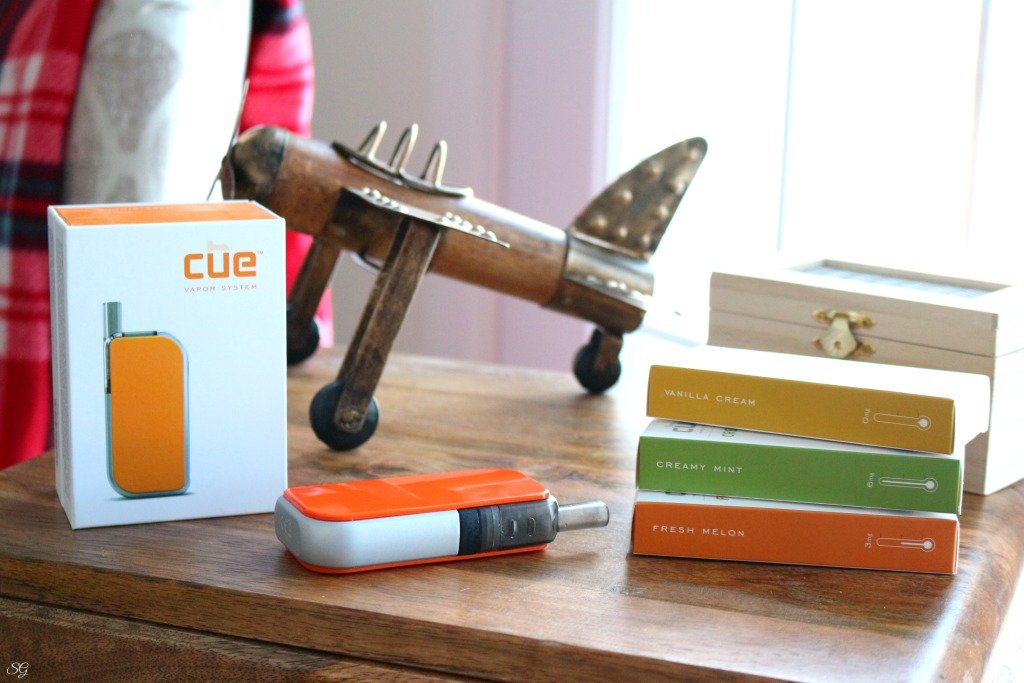 So as I said we're printing off this motorcycle design with our inkjet printer and transferring it right onto the wood box! It's a lot easier than you might think!
Click here to download the image to print! Note this image is sized for my project. You can always search free clip art online to find the perfect image for your project as well. Here's how to transfer a printed image from your inkjet printer onto wood…
Materials:
Wood box, clean of dust and debris

Sticker/Label Paper without the stickers on it (shiny side)

A design to print, like our motorcycle

Credit card, or something to smooth things out. I'm using a bakery bowl scraper – anything with a fine edge will work!

Clear coat spray
TIP: No sticker paper? Parchment paper cut to the size of standard printer paper may also work. Give it a go!
Directions:
Get your wooden box and design ready, print your design on the shiny side of the sticker paper. Don't touch the print, it's not dry and will smudge! I like to cut around the design, right up close to the ink to make placing it and lining it up easier.
TIP: Before printing, flip your design in Paint or another program. You'll want to print a mirror image of your design so it shows up correctly once applied to your project. This is especially important if you have letters or words in your design. If you choose to use the motorcycle, I've already flipped it for you
Apply the design straight to the wood box. You have ONE SHOT at this so make it count! Place the design exactly where you want it, then smooth it out with a credit card.
Remove the paper and voila! The design you printed on your inkjet printer is transferred to the wood box. Now allow it to dry completely.
Spray the entire box with clear coat of polycrylic or polyurethane, allow it to dry and load it up with all of your man cave necessities. Don't brush on the clear coat as the ink will smear and make a mess.
As we tidy things up for the New Year, vow to become more organized, and take more time to relax, we're also talking about the Cue Vapor System. You can crush your New Year's goals with the vaping system that delivers true smoking satisfaction that you've been looking for. There's no better time to make a switch, and no easier way to do it.
Using the Cue Vapor System is really simple. Take a prefilled disposable flavor cartridge in the nicotine level you wish to use and remove the silicone protectors, insert the cartridge until you hear a click. Don't have the Cue Vapor System? Grab one at Cuevapor.com with a few clicks or click here to find out where you can get one near you.
That's it! Press the button five times to turn it on and vape. Use the thumb holes to control vape flow, too! It's Vaping. Made simple.™ You're ready to kick back in your man cave, chill and vape. Check out these videos and follow Cue Vapor on Twitter and Instagram.
How do you organize your Cue Vapor System?
NOT FOR SALE TO MINORS. California Proposition Warning statement: "WARNING: This product can expose you to chemicals including nicotine, which is known to the State of California to cause birth defects or other reproductive harm. For more information, go to www.P65.com. WARNING: This product contains nicotine. Nicotine is an addictive chemical. Cue™ the Cue Logo and Vaping. Made Simple.™ are trademarks of Digirettes, Inc.
Subscribe For Free!
Be In The Know
Be the first to know about new blog posts!